I was able to snag an early copy of Oola for Women: How to Balance the 7 Key Areas of Life to Have Less Stress, More Purpose, and Reveal the Greatness within You by Dave Braun, Troy Amdahl. And to be honest, I wasn't totally sure what the heck Oola was all about. I had heard and read a little bit because Young Living has an entire line of oils inspired by the book. I started to research a bit and found out that "Oola" (originating from the word "oo-la-la") is a lifestyle based on the International best-selling book, Oola: Find balance in an Unbalanced World.
oo-la (noun): That state of awesomeness. It is when your life is balanced and growing in the seven key areas of life – the 7 F's of Oola (fitness, finance, family, field (career), faith, friends and fun).
I do want to say I received this book for free in exchange for my review and it does include affiliate links, but this post is my 100% honest opinion of it! Now let's get started…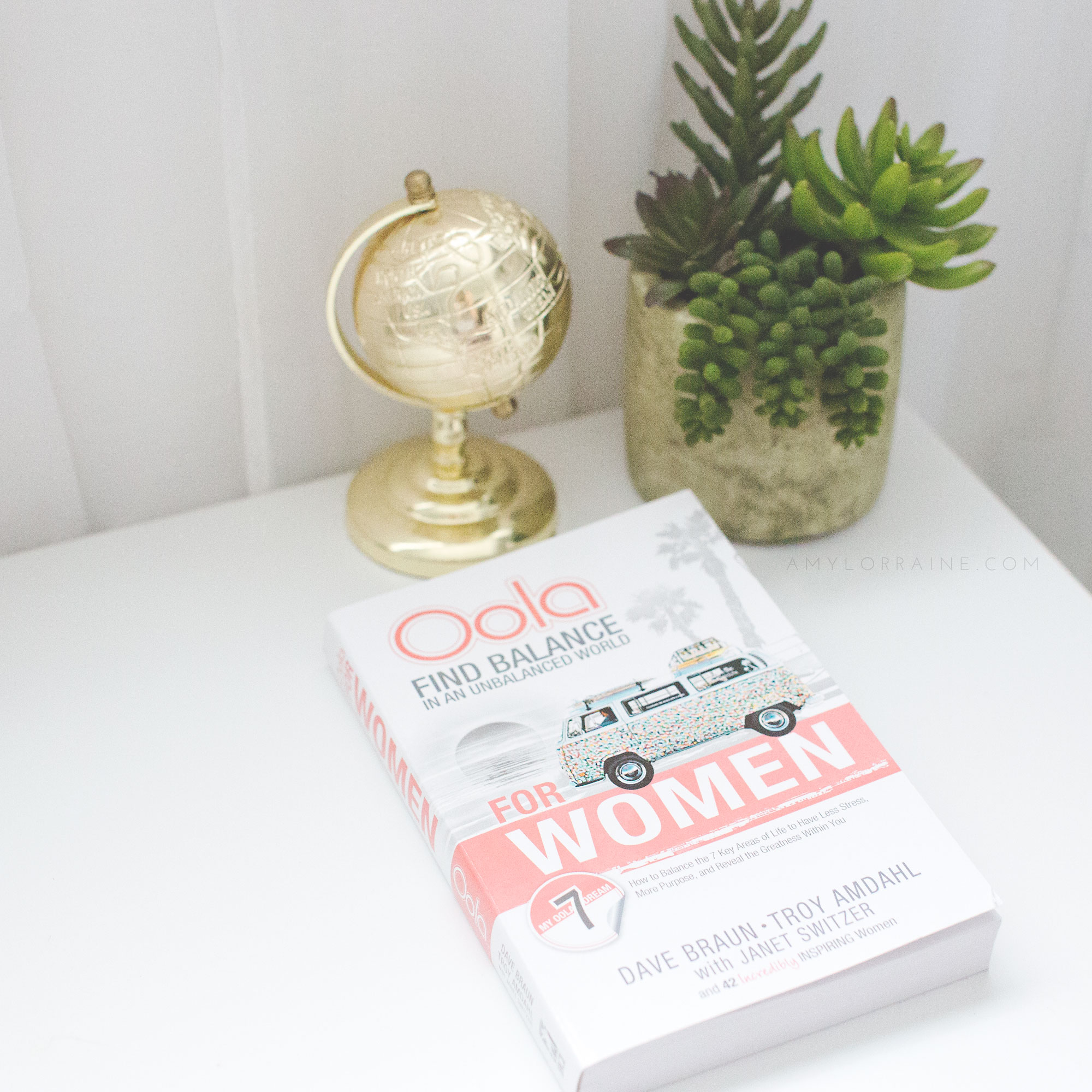 I believe balance is a myth but I love reading personal development books that can help encourage me to grow. I also thought it was a bit silly to have two dudes telling women how to live in balance. But I decided to give it a try and to have an open mind to what this was all about.
In the beginning of the book, we recap the previous book in the introduction so if you haven't read the first one, I don't think it's totally necessary to read both. I'm sure there is more in depth and greater detail to Oola Life but overall I didn't feel completely lost reading this one first.
They explain the whole "we're dudes but we're not trying to tell you what to do" thing. There are also 42 women who wrote throughout the book as well. So I appreciate that. I read:
We want our daughters to grown up in a world where they're empowered, understood and fulfilled.
I think cynically: "Yes!… and women eat this 'finding balance' bullshit up… so you also see $$$ on book sales!"
I kept reading, including the part on how Dave and Troy got to where they are. I read the sentence "Just like the Oolaseeker, you may be going through a season, too." And I ate it up.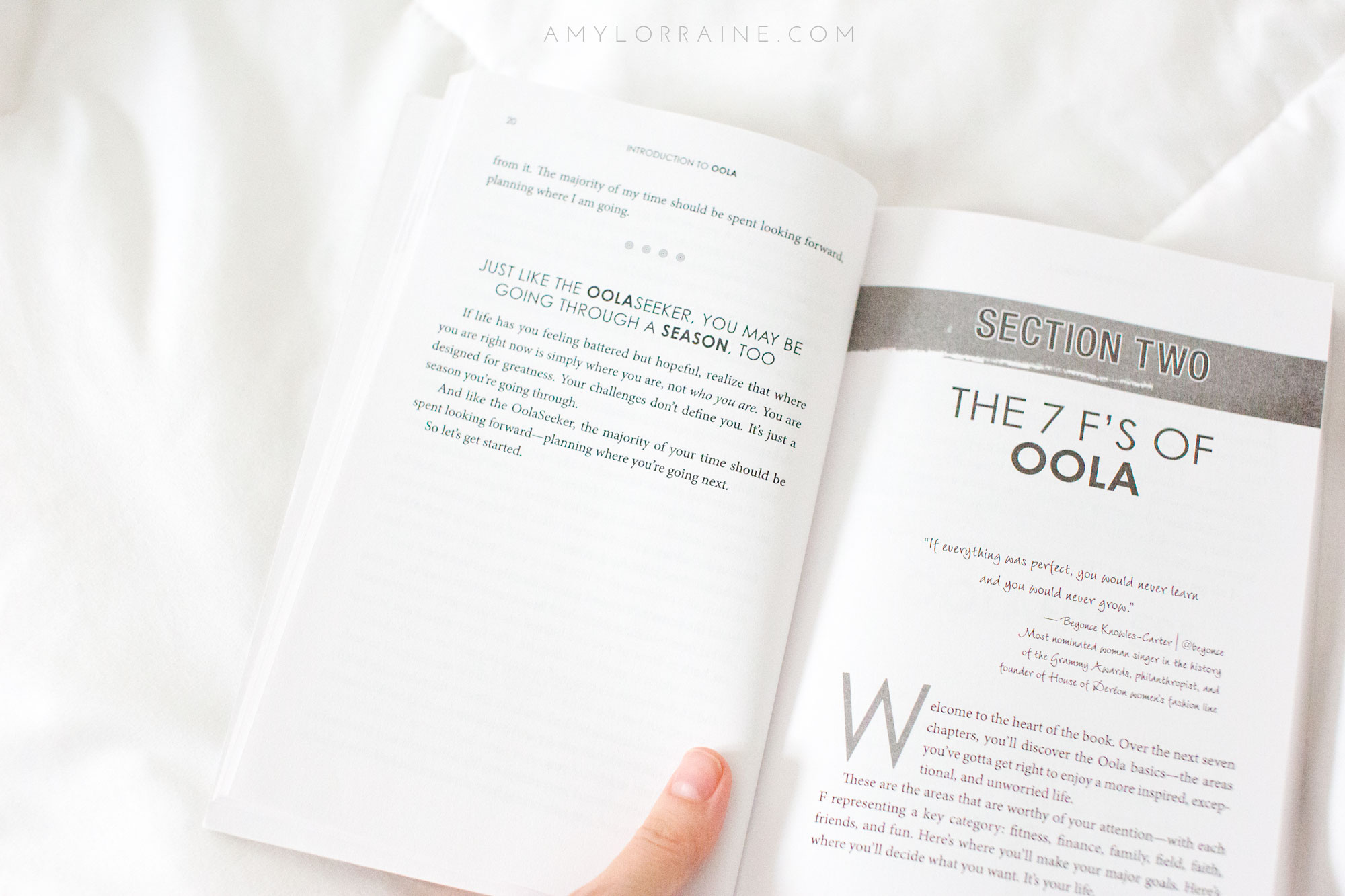 Because mom life is hard. Building a business is hard. Trying to get your way out of debt is hard. Making time for your significant other, family, friends and have alone time is hard. But this is just a hard season for me. I know.
Then I hopped over to the Oola website to take the "balance" test, to no surprise, find out how unbalanced I am. The 7 F's are Fitness, Finance, Family, Field, Faith, Friends, and Fun. And the best thing though is that Family is the highest and for me, that means the most. But I also saw what areas were lacking and where I need to put some focus getting them in better balance.
In this book, one thing that stuck out to me was that there was a suggestion of throwing your life out of balance, on purpose, for a season if you have to. Sometimes you've gotta do that to look at the big picture and that's what balance is to me. Sometimes work has to take priority to pay some bills. And sometimes family, friends, and fun need to increase for your own sanity. But the balance will come back once you've got the lower sections increased and thriving.
This book does a good job going over the different areas in life where we all will struggle at one point or another. I think depending on where you lack balance right now, you'll find inspiration in different parts of this book. I know that I'll reread different sections of the book to get inspiration and refocus as my seasons change. Overall I'd totally recommend it! Get your Oola on ladies 😉
If you're interested in getting this book you can at Amazon or Barnes and Nobel on pre-order for less than $11.
Let me know if you've pre-ordered your own copy in the comments below!

Amy Lorraine is a Lifestyle and Wellness Blogger who calls southern Maryland home. She blogs at AmyLorraine.com, creates crafts, prints and designs in her Etsy shop, and shares her essential journey at The Oil Adventures.

–LET'S BE FRIENDS–
Instagram || Facebook || Twitter || Youtube || Pinterest
Follow me on BLOGLOVIN' to stay up to date!