I've been packing up and swapping out Quentin's clothes because we're finally headed into fall and he can't fit into the 6 month clothes anymore. And while I was doing this, I came across this adorable Tshirt I was given by the birthing center and realized I never photographed him in it! I also feel like recently I've been asked a lot more about my birth experience too! And while I already blogged his birth story, there are a few things it doesn't explain.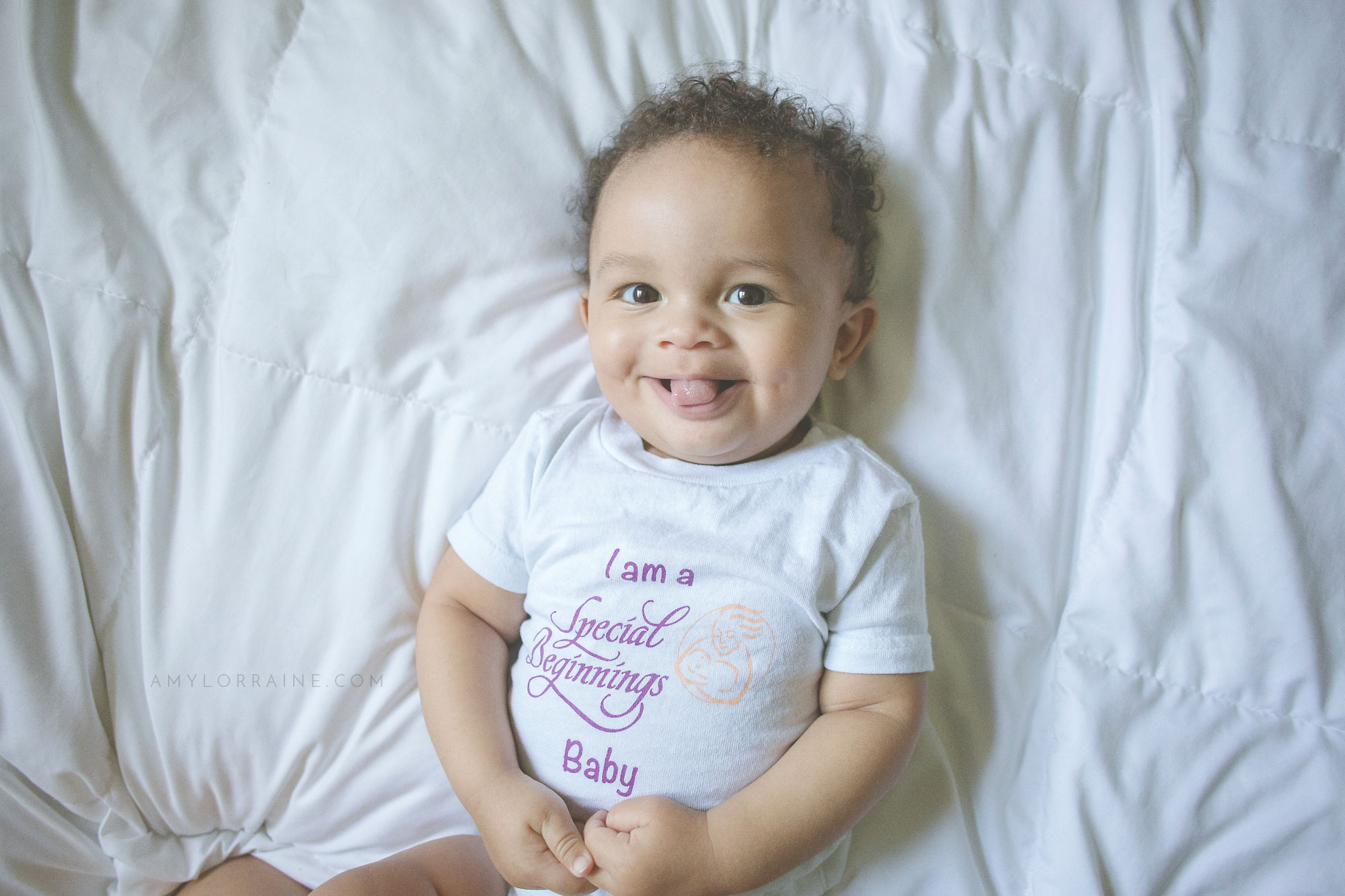 Years ago I never wanted biological children, because I never wanted to be pregnant or give birth. The entire thing terrified me. I always joked that if I ever was to get pregnant I'd like to be placed in a medically induced coma around 8 months and to be woken when the kid was about 3 months.
So fast forward quite a few years, I started down a more holistic and natural health journey. I had friends talk about not getting epidurals and I had seen beautiful birth photography of water births but still never thought I would choose that. Until 2016 when I found out my eggo was indeed preggo.
I ended up going to my OB/GYN for the first 2-3 appointments but was already planning on looking into midwife options. My OB was a nice woman, but I would sit in the waiting room for 2-ish hours, just to be taken back and had vitals checked by the nurse, pee in a cup and wait in the room for another half hour just to be seen by the Dr for 5-15 minutes. It always ended with "Any questions?" but I felt like a faceless number wasting her time and that disposable paper sheet I had to sit on. And because of that experience and the fact I knew I would not be able to have any chance of having a water birth with her, I started looking else where.
In my area, the only two birthing centers were Bay Area Midwifery and Special Beginnings Birth And Women's Center. Bay Area told me that my insurance would not cover the water birth but I could have a midwife deliver at the hospital, which they're connected to. Special Beginnings was a free standing center and insurance covered the whole thing, except the $150 fee to use and clean the birthing pool.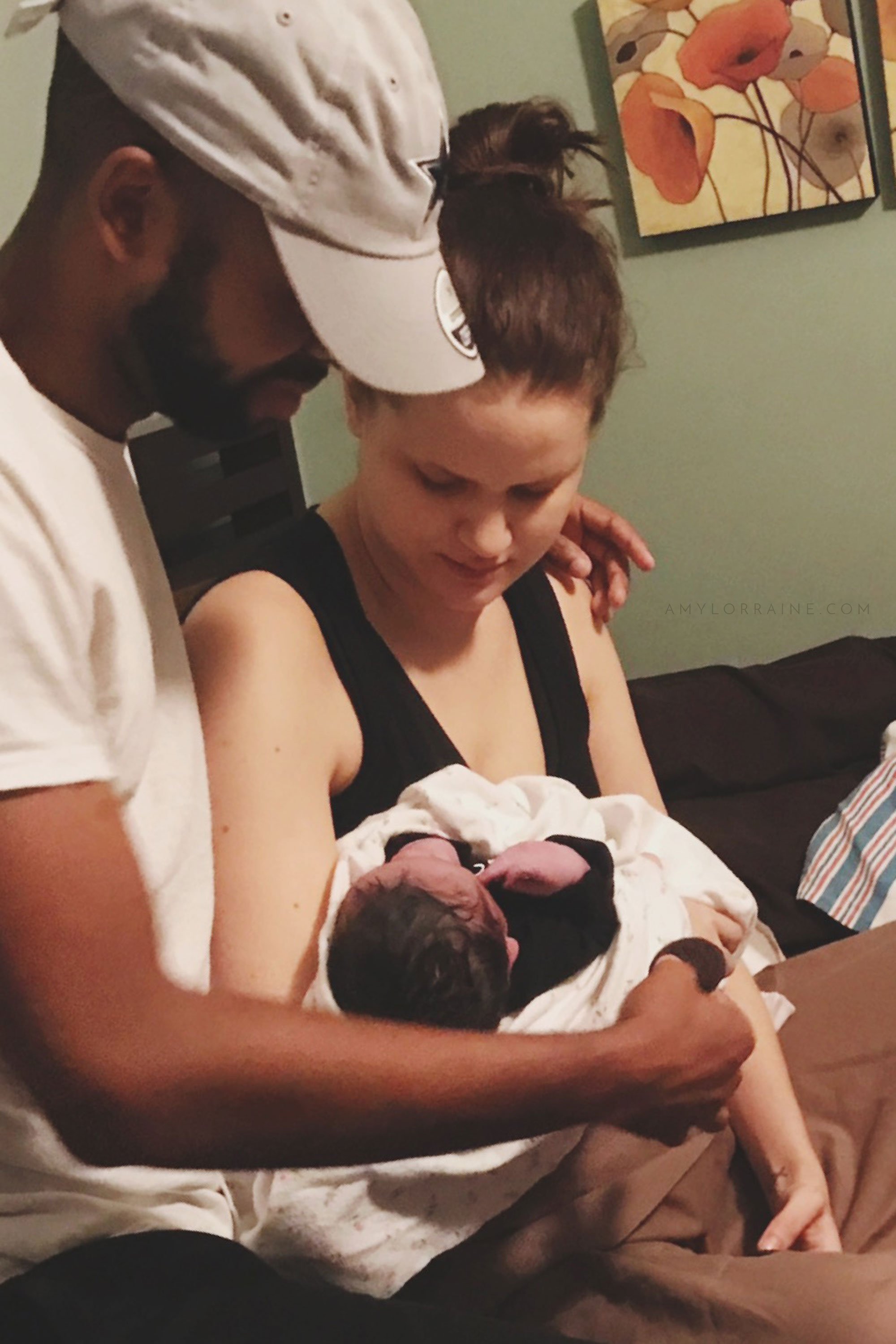 We went on a tour at SB's center and a few things stood out. The woman said, "Birth is a natural and normal part of women's lives unless proven otherwise." Meaning, if I had a healthy low-risk pregnancy, C-section and hospitalization would NOT actually be necessary. And with today's technology, I felt like we would know if I was at risk.
The other plus was that if I for any reason wanted to have a hospital birth (like contractions started and I changed my mind) I could have the midwife meet me and deliver at the hospital. And I could even have an epidural if I wanted. The only time when I would no longer be their patient, is if I actually needed a C-section, but they would still be able to be in the OR with me and because they have hospital privileges, they're considered staff.
In case of transfer, if I decided I needed to go to the hospital, we'd get in my car and meet the midwife there. If we needed a transfer for a medical reason the fire department was less than 2 minutes away, the hospital was 7 minutes away and they would call ahead to prep the OR during that drive time. So I felt safe and in capble hands, who we're not going to risk our lives or their practice just to have a "natural" birth. And being a first time mom, I felt like I wanted to have "just in case" options.
I also felt like water would soothe me and alleviate contraction pain a bit. I knew I didn't want an epidural if I didn't *really* need one. I see a lot of people say "you don't need to be a hero" when women talk about giving birth naturally. And I didn't want to be a hero, but I knew the risks of having one, like chronic back pain, nerve issues, headaches, and even paralysis. It's also proven that they tend to have longer labors, harder pushing, doubles the chance of a c-section and worse recoveries. So having a birth center birth where epidurals aren't going to be pushed or even available gets you in a better mind set that it's not there helps.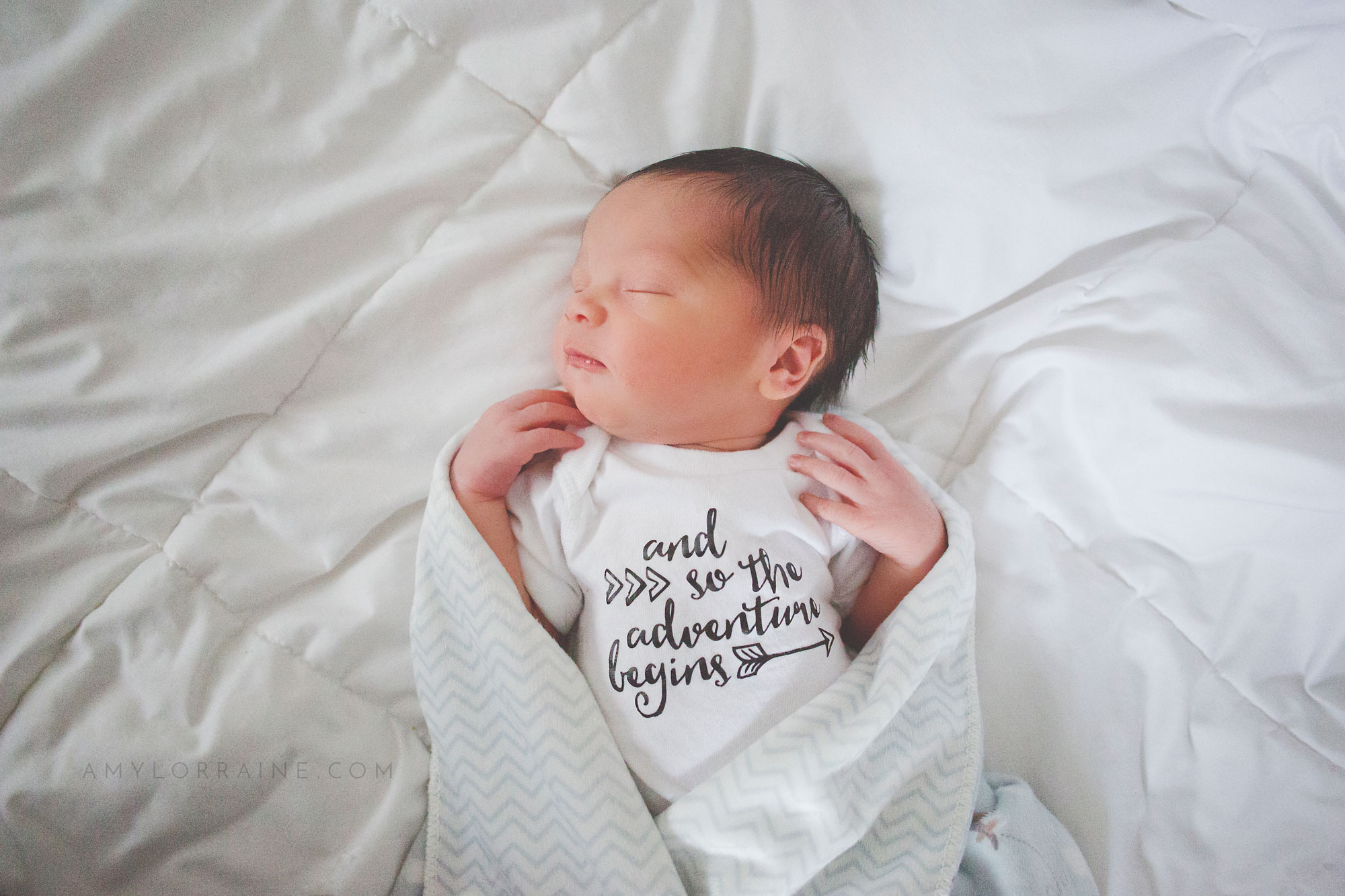 So what would I do differently..?
It's tough because I know everyone says no two pregnancies/births are the same.
But I know I would hire a doula.
Chandler was a great support system and the midwife and nurse were super helpful too. but I think having a doula would have made things better and thought to do things for me. I packed up my oils and didn't use a single one because by the time I got there I was in active labor and just trying to get through each contraction. I've also heard how amazing doulas are for after birth as well and the postpartum version of me can use ALL the help she can get.
I would have labored in the dang pool!
I was so convinced I was going to be in labor for a lot longer than I was and I thought I would be in a lot more pain that I waited to get checked to get the pool set up and filled. So by the time it was set up and the water was at the right temperature it was pretty much time to push. I did labor for a bit in the shower and that helped but I wish I would have been able to labor in the pool.
I would have a home birth.
Now this is dependant on a few factors, but I really think I will consider a home birth if I ever have another pregnancy. The birthing center was great, but I would have much rather not have to make the 45 minute drive to and from. But for me to feel safe and comfortable I would have to live closer to a hospital. There is also something better and comforting about laboring at home. And no need to pack up all your crap when it's already there.
I would not have as many people there.
We are SO lucky to have as many family members as we do who love us and support us and wanted to be there to meet Q, but I can't lie, it was incredibly overwhelming for me. I was exhausted and I was starving and I wanted him all to myself. But I did let family come see him. Though, I could not tell you a single conversation I had with anyone who came. And I think I would have much rather had people come over to visit throughout the first couple weeks than all at once a few hours after. We're close with so many family members I don't know how I'd be able to choose who gets to be there the day of but luckily I don't have to figure it out today. And I know if I had a home birth, it would be a bit different experience anyways so who knows how it would work out.
I would hire a birth photographer.
We have cell phone pictures that I will cherish forever. But I wish it was in my budget to have hired a birth photographer. I really don't think I wanted photos of me actually giving birth, because.. let's be real… It was not pretty or graceful. But having quality photography of that fresh new babe would have been everything.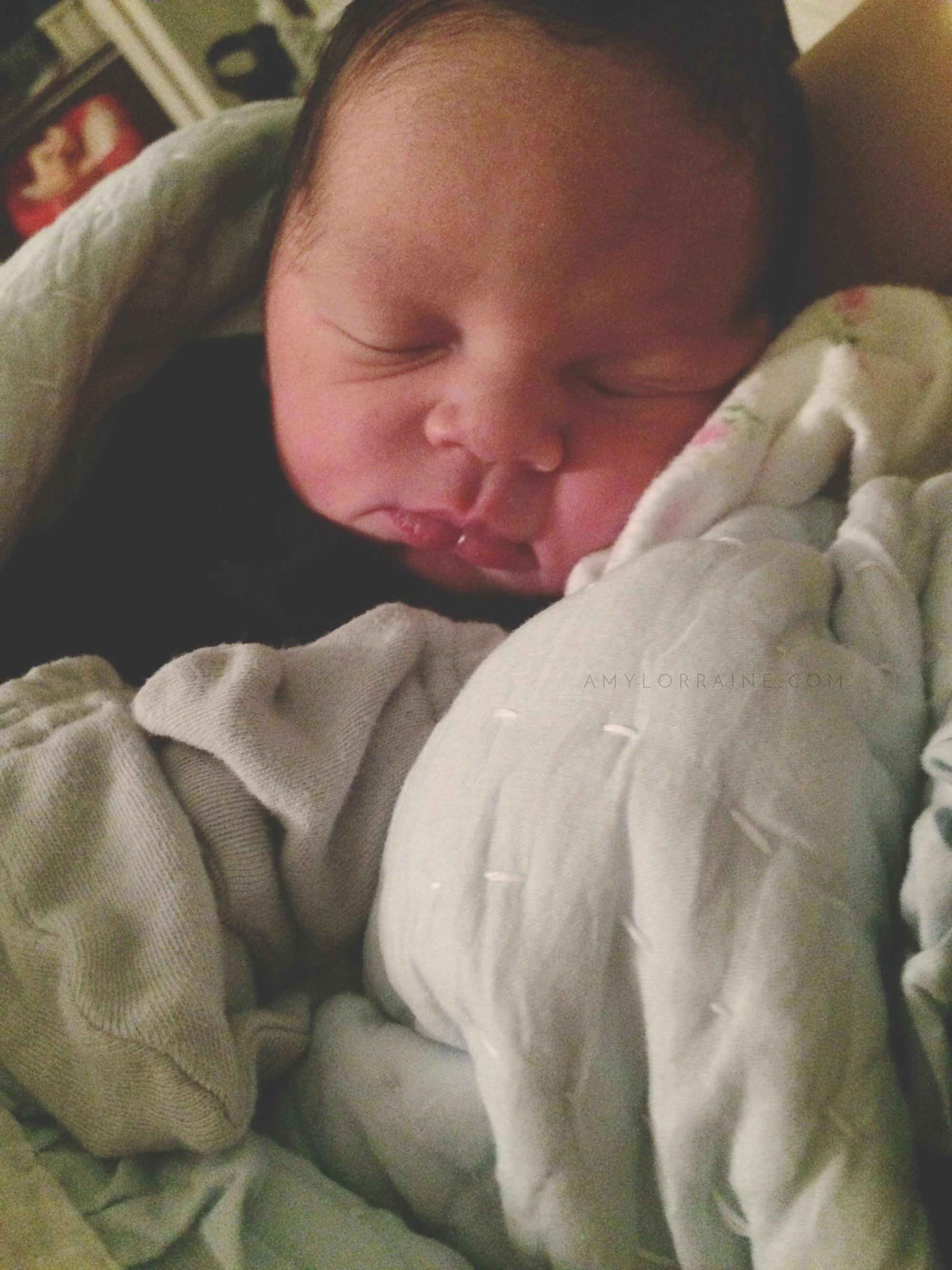 And that's all to say, I had an amazing birthing experience. I was lucky enough everything went according to "plan". I didn't have a high risk pregnancy. I didn't need a c-section. And I was lucky enough to have an easy labor. So if you want to, are lucky enough, have the right mindset and the stars align, I highly suggest a water birth.
But I'm curious, what would you do differently from your last birth?

Amy Lorraine is a Lifestyle and Wellness Blogger who calls southern Maryland home. She blogs at AmyLorraine.com, creates crafts, prints and designs in her Etsy shop, and shares her essential journey at The Oil Adventures.

–LET'S BE FRIENDS–
Instagram || Facebook || Twitter || Youtube || Pinterest
Follow me on BLOGLOVIN' to stay up to date!