Somehow I blinked and we're eight weeks postpartum but I wanted to blog about the first three weeks. All the ups and downs of breastfeeding, bed rest and baby blues. For those who know me, know I research EVERYTHING. So when I found out I was pregnant I started researching everything from the best prenatals, to car seats, to breastfeeding and finding the right pediatrician and more. But all the research in the world can't prepare you for the first three weeks with your new baby. Those weeks were the hardest weeks ever.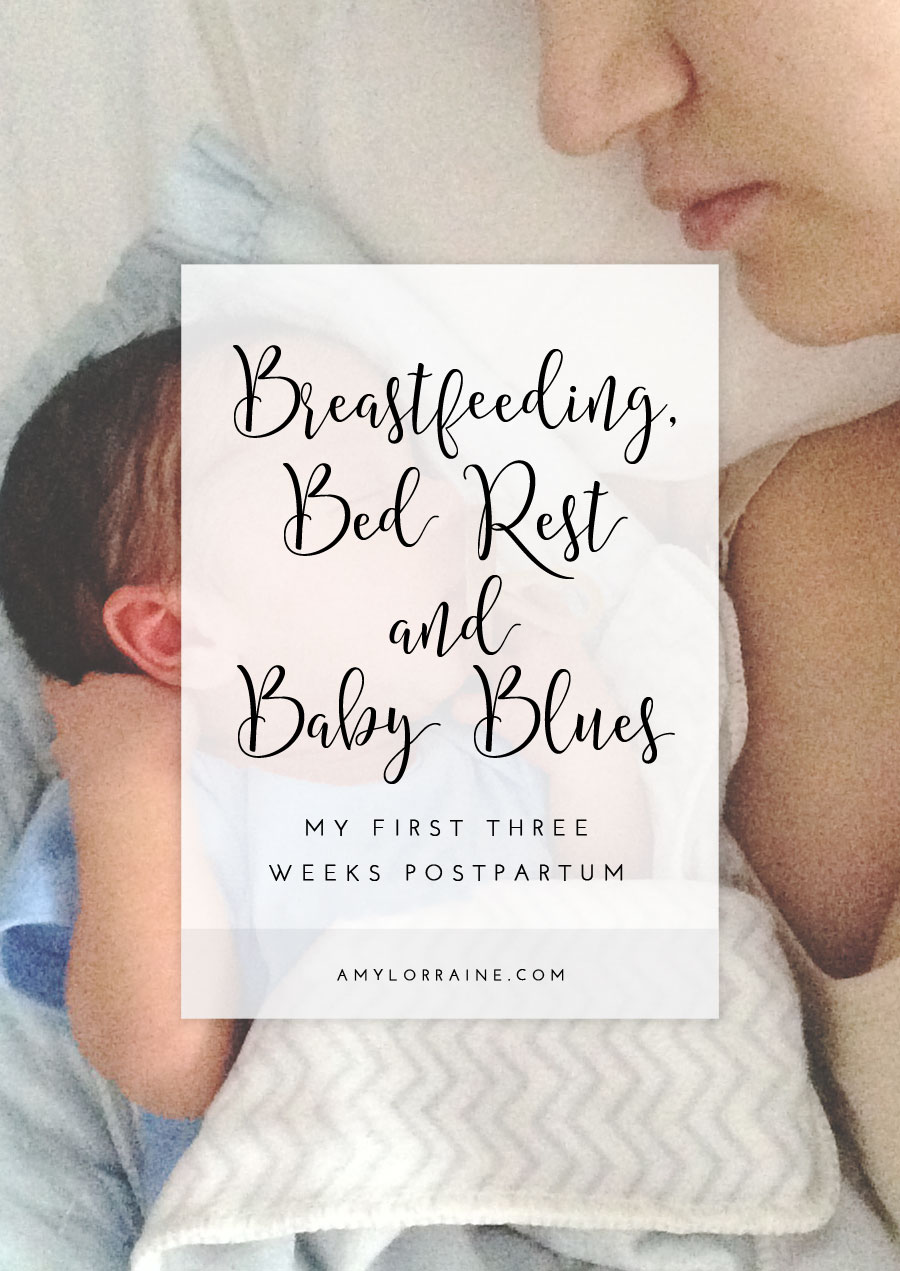 After giving birth we started nursing almost immediately. It hurt, but I figured it was mainly because I wasn't used to having a little piranha attached to my nipples. And this dude was ALL about it. He nursed for like an hour and a half and I'm pretty sure would have kept going if I let him. I had the birth center nurse, Sara, help and give me tips and he seemed to be latching well and seemed content, so I wasn't really worried once we went home that night.
But feeding on demand with a baby who would nurse for hours and the pain getting worse the entire time, made me realize something was up. The breastfeeding class I took during my pregnancy made is very clear, it's not supposed to hurt this bad. At our home visit the next day, Sara was pleasantly surprised my milk had already come in. When I explained that I was in pain the entire time he was latched she asked to see me nurse him. Everything seemed pretty good, so she checked his mouth and found both tongue and lip ties.
For those of you not familiar with what tongue and lip ties are… They are the frenulum, tissue that connects the lip to the gums and the tongue to the mouth and they vary is length and thickness. Some babies have them. Some don't. Some that do have them have no issues. Some have a bunch of issues and need a revision. And because of Quentin's ties, he wasn't able to breastfeed properly. Instead of breastfeeding, he was nipple feeding and was pretty much working at a 50% capacity instead of 100%. It wasn't just that my nipples hurt, it was like shards of glass were coming out the entire hour+ he was feeding. Sara recommended I contact the lactation consultant at our birth center in the morning and get a recommendation for revision and maybe try a nipple shield in the meantime.
She also checked and told me I had diastasis recti, which is a condition common for pregnant women. As your uterus grows your body has to accommodate and the two large parallel bands of muscles that meet in the middle of the abdomen can separate. I don't have a major seperation but enough to feel off. And I knew I was going to be in pain physically after birth but I guess I just thought it would be down in my lady bits and not in my entire body. After giving birth your center of gravity is thrown off again. So combine with diastasis recti I felt so wobbly and off balance. I was not prepared for that.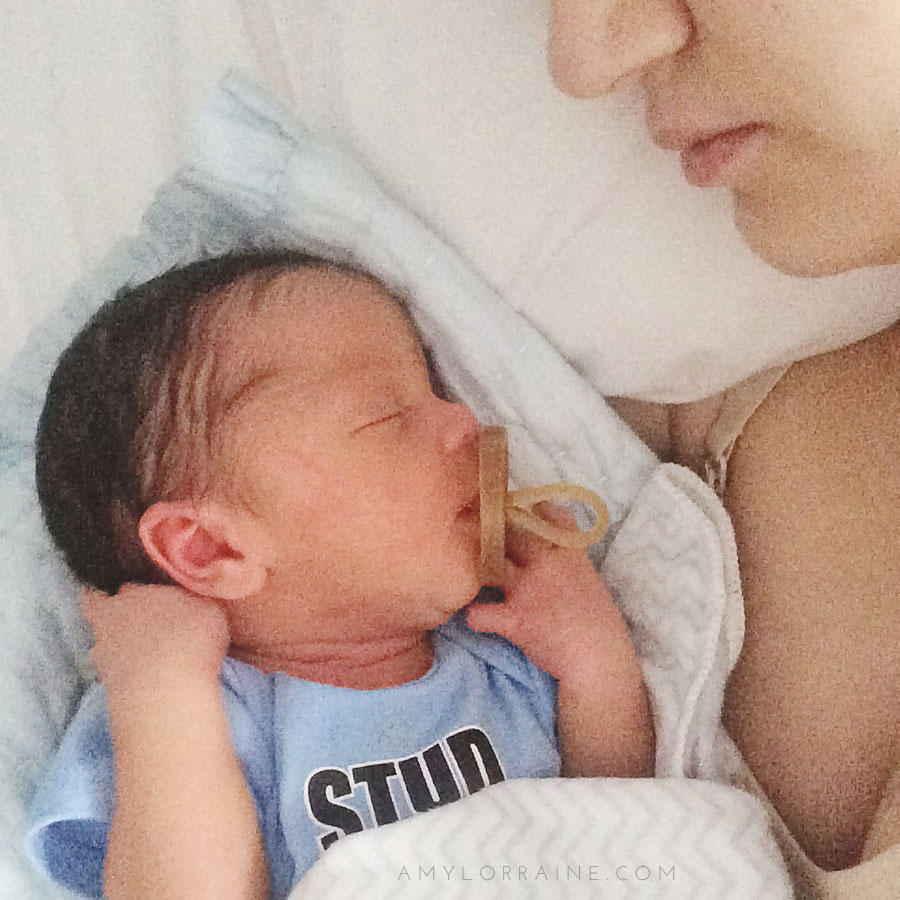 The next day after going on very little sleep I woke up to a text alert from my bank about fraudulent charges. Someone drained my checking account. *insert all the hormonal tears* So on top of dealing with that I had the pain and anxiety of feeding, no sleep, my entire body constantly hurting from the marathon that is childbirth and the general new mom "HOW AM I SUPPOSED TO KEEP HIM ALIVE?" fears.. lead for a fun day of anxiety and emotion until I had a breakdown that night. Looking similar to this: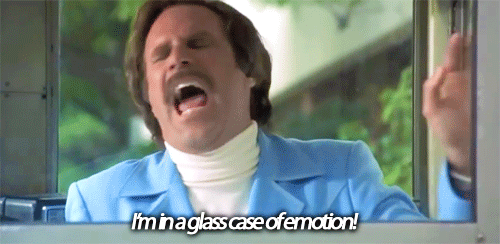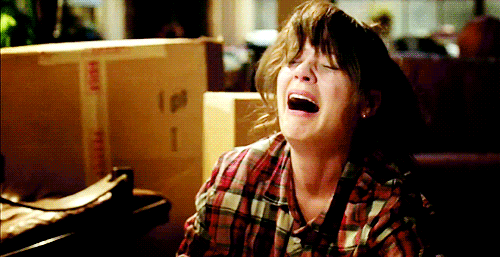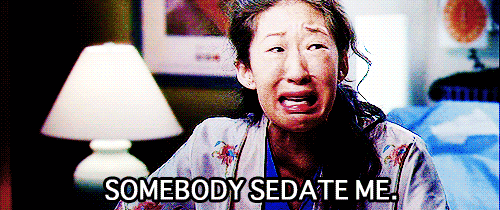 It was not cute. The baby blues are real and they are ugly. I know people are more vocal about postpartum depression and I was no stranger to dealing with anxiety but this was on another level. I didn't have thoughts of harming myself or my son, I was just so emotional and anxious. I had fears that something was going to happen to him. Every noise or mark or thing he would do I thought was something bad and I freaked out. In the car I worried about accidents. I worried about falling down the stairs while carrying him. I worried about his coloring, his cord falling off early, different poop and spit up colors. And sometimes I cried from worrying with no triggers at all.
But luckily Chandler and my parents somehow managed to calm me down. They suggested I should try pumping until we got the ties revised. I am SO thankful I got the Spectra S1 before giving birth even though I didn't plan on pumping so soon. And I'm so grateful that I was able to get more than enough out while pumping. I know so many women who don't respond to pumps but I was able and happy to not need to supplement with formula. And I do credit that to the Spectra. #BLESSED 🙂 Even though I still had to keep waking up to pump, I was able to do it in 20 minutes vs the hour+ feed and then have someone else feed Q which helped me get that MUCH needed sleep. I felt like a whole new person the next day. SLEEP y'all. Don't take it for granted.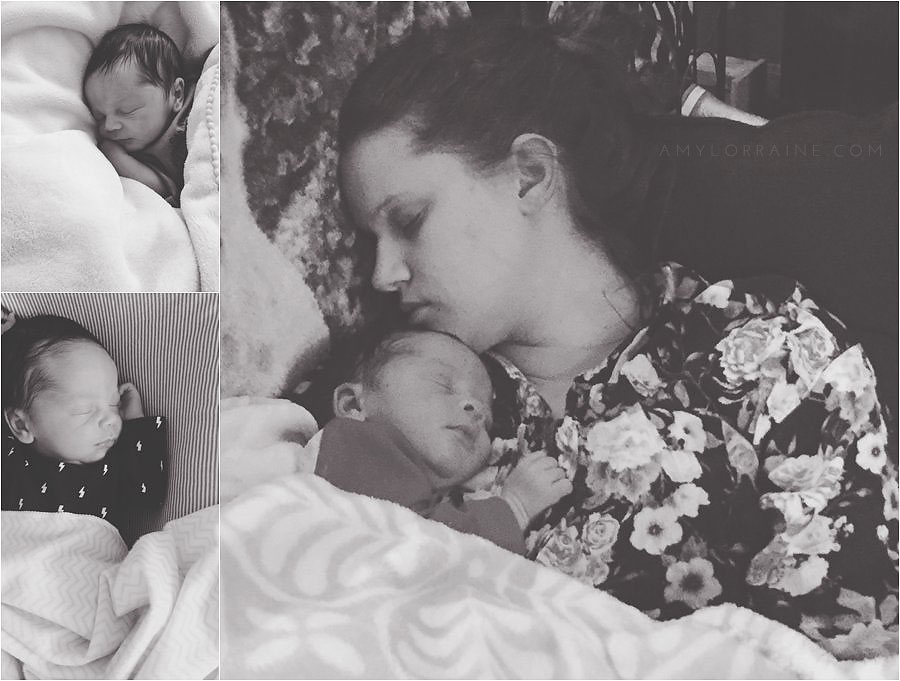 The next day I was able to talk to the lactation consultant who referred me to Dr. Khoshkhou of Arundel Pediatric Dental Care to get a consult on his ties. I booked the appointment for the first available date, which wasn't until Monday when he was a week old. We made it through the weekend and were looking SO forward to this appointment and hopefully getting this all resolved.
The staff was super nice, went over every little detail and really made the effort to make sure I was okay as his momma. The assistant took some photos of his ties and then Dr. K came in to explain it all and asked if we wanted to have it done then. Which we did. They knew that I was probably nervous and said I could be there for the procedure or wait outside if I thought I was going to get emotional. I did already research the procedure and knew what to expect so I really wasn't worried. I knew he was going to cry and may be in pain after but I knew we needed this. They swaddled him, gave us all glasses and Chandler helped hold him while the laser worked its magic. It took like two minutes and then they showed me how to do the stretches so it wouldn't reattach and we tried nursing. I noticed an improvement immediately and I was SO relieved.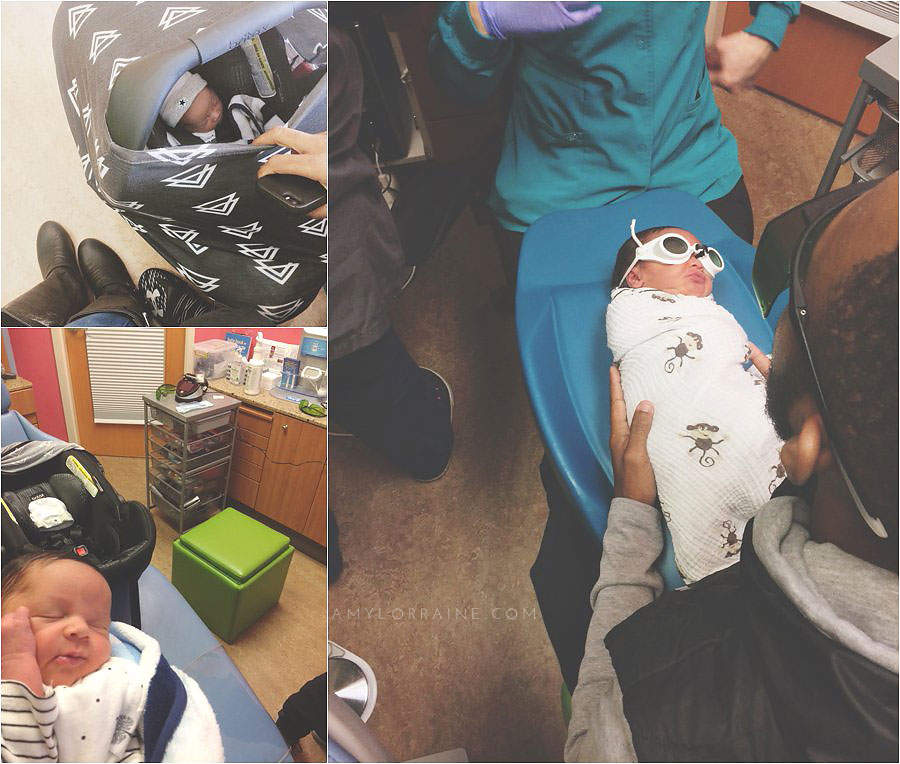 After we left, we got stuck in traffic on our way to Chandler's parent's house. We visited longer than we should because I hadn't pumped since before the appointment and I didn't have my pump with me. #RookieMistake. By the time I realized I was starting to feel bad we packed up and headed home. Even though it takes less than 20 minutes to get home, I was in pain and crying again. I thought it was just engorgement but then the chills, aches, and fever set in. I had mastitis.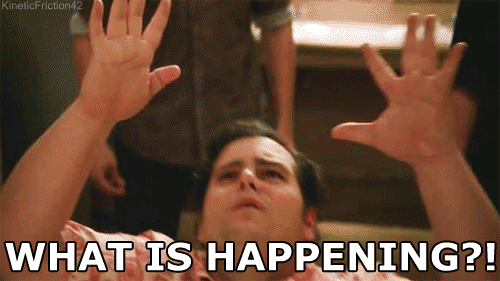 If you've never had mastitis, consider yourself lucky. It's basically the flu with intense pain in your boob. And you know what they say makes it better? Putting baby on said painful boob to suck it out. I called the birth center the next morning and she told me to stay in bed, skin to skin with Q and have him nurse as often as he would, take ibuprofen, have someone make me food and drink tons of water so basically only getting out of bed to use the bathroom. She said if I didn't feel better in a few hours to call back and they would call in a Rx of antibiotics. I started to feel better, didn't have a fever and was trying some holistic methods to heal so I stayed in bed that day and the next and started to finally feel okay. We were working on nursing but he still was having trouble getting a good enough latch so I was back in pain and he wasn't fully emptying me so the mastitis came back.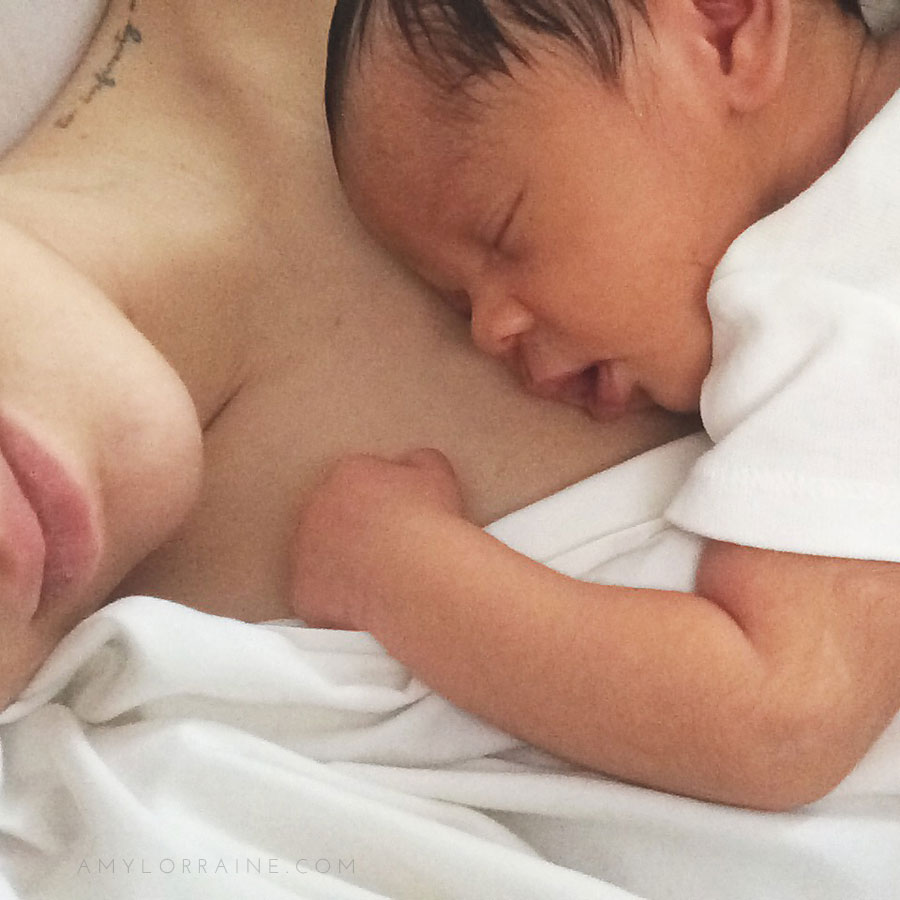 I called to get the antibiotics this time and repeated all the steps of bed rest and holistic remedies too. I called to set up an appointment with a Lactation Consultant but wasn't able to get in until after the weekend. So I went back to pumping. After the LC appointment, I felt good about what she taught me and it really did help but of course, in the middle of the night and exhausted he didn't want to cooperate. We spent a few times latching and unlatching to get it right but it never seemed to help so Q and I both ended up in tears. So for our sanity, I decided to exclusively pump.
I have to majorly give a shout out to my parents and Chandler for being there and helping as much as they did. My dad rocked Q in the middle of the night so Chandler could sleep before he had to go to work and I could pump and wash parts and get some sleep too. My mom came home from work early after a few crying phone calls to calm me down and let me sleep. She made me food, did my laundry and took care of Q. And Chandler stepped up and took care of Q when he wasn't working. And even those mornings when he had to get up early to go to work he would still change a poopy diaper and help bottle feed and burp in the middle of the night. And days when he didn't go into work early he let me sleep as much as I could while taking care of Quentin. Without them, Q and I would have been checked into the psych ward. I'm so thankful for them all.
Now eight weeks out things are so much better. As crazy as I felt I am so incredibly thankful looking back that those were our only problems. I didn't have to recover from a c-section. We didn't spend anytime in the NICU. I have a happy and healthy baby. I am one of the lucky ones. Do I still have anxiety about being a mom and keeping a tiny human alive? Hells yeah. But it's not totally irrational fears and I don't cry every day either so we're in a good place. After my 6th week postpartum appointment and talking with the midwife I decided to try and offer the boob and I was surprised to see he went right back and had no "nipple confusion" after three weeks of strictly bottle feeding. His latch still was shallow so were going to try a few things and see if we can work on getting him back and possibly seeing a different lactation consultant. Exclusively pumping is SO hard. I am one of the lucky ones who has an over supply so I don't take it for granted. Especially since breastmilk is worth the work over giving formula. That's not to knock anyone who gives formula or can't pump or breastfeed directly.. it is just one thing that is important to me for him. So I'm taking it one day at a time and we'll see where this goes.

Amy Lorraine is a Lifestyle and Wellness Blogger who calls southern Maryland home. She blogs at AmyLorraine.com, creates crafts, prints and designs in her Etsy shop, and shares her essential journey at The Oil Adventures.

–LET'S BE FRIENDS–
Instagram || Facebook || Twitter || Youtube || Pinterest
Follow me on BLOGLOVIN' to stay up to date!