I've read a ton of lists on other blogs thanks to Pinterest. And women swear by things like padsicles, stool softeners and swaddles. My list is a little different. If you've read my three week postpartum blog you'll know those were rough and these 10 things I couldn't live without postpartum.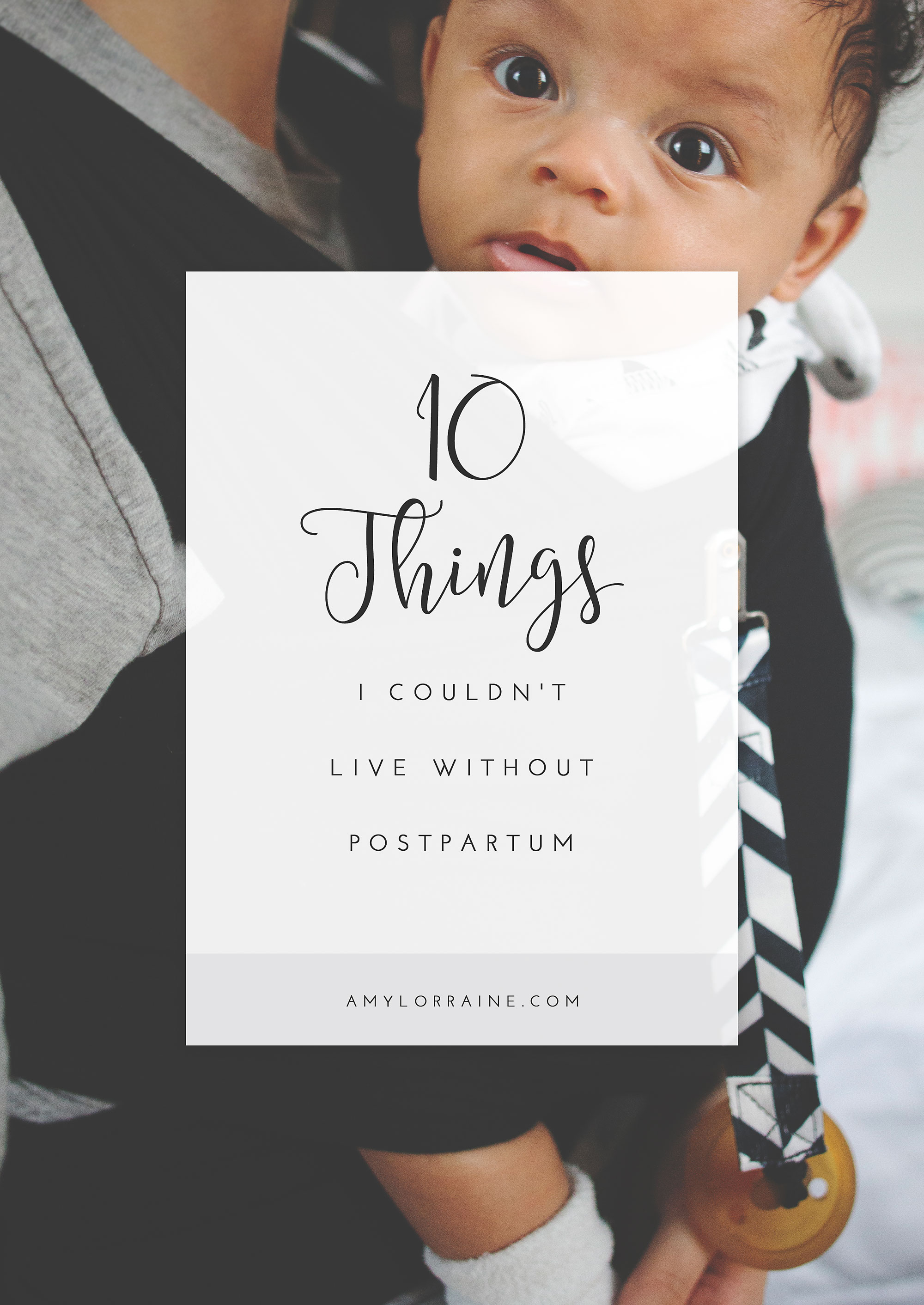 DockATot
We have to start with the magical baby pillow, the DockATot. I don't know how I would have lived without this for real. I'm not saying it has magical powers but bub falls asleep on his own in it and has been in it since day one. As "crunchy" as I am I didn't want to co-sleep because it made me nervous but surprisingly enough it was the one crunchy thing Chandler actually suggested. I planned to use the DockATot in his Pack-n-Play in our room and then to help with naps and eventually moving to his crib in his own room. But then the first night happened and Quentin kept coughing up amniotic fluid and I got no sleep so we put him in it in the bed to be close with us. It's been a wrap ever since. It makes night time feedings so much easier too!
Spectra S1 Breast Pump
I credit most of my ability to pump to the Spectra. I know everyone thinks that pumps are covered by insurance but mine wasn't until after birth and if it was "deemed medically necessary". I knew I may need to pump and didn't want to risk any chances of not having a pump so I made sure I got a pump before. After asking friends and researching I found that the Spectra was recommended the most. I know some insurance companies cover the Spectra S2 which is the same minus the rechargeable battery, so you can totally snag that one but if you're buying your own.. get the S1 for the extra portability. It makes pumping in the car or anywhere away from an outlet else so much easier!
Pumping Bra
There are tons of hacks on easy ways to use an old sports bra as a pumping bra but I got this Hands Free Pumping Bra. It is adjustable so you can use it when you're super engorged or when your supply has regulated. The first couple days of having to hold the flanges were torture. I'm actually wearing it right now and pumping while I can type on the computer. My favorite is when I need to pump and feed Q at the same time. I get myself situated and place Q in the boppy in front of me to feed him and pump at the same time.  I can feed, burp and get him back to sleep and then finish pumping while scrolling through social media. 😉
Lilypadz
These glorious breast pads are going to be my shower gift for every baby shower from here on out. I used the washable Bamboobies and the disposable Lansinoh kind but the Lilypadz are hands down the best breast pads out there. These silicone pads kind of suction to you without any pain. They're reusable and according to the company have been tested to actually prevent leaks, decrease thrush, mastitis and clogged ducts. But the best part? You can totally go bra-less without having to worry about leaking or chaffing. #CanIGetAnAmen? I'm Obsessed. They do lose stickyness if you're like me and use coocnut oil all the time so I actually need to order another set or two or twelve!
Tracking Apps
You need a good app to track everythinggggg. I loved the apps to track his growth during my pregnancy but now I need something for postpartum. I used the Baby Nursing app which can track nursing progress, growth, diaper changes, doctor's visits, and more. In the beginning, I tracked diapers, nursing, pumping, and measurements. Now I'm just tracking pumping so I use the Pump Log app. I made the switch so I could keep track of my freezer stash! And as an added bonus, pay for The Wonder Weeks. It is based off the book to describe easy-to-understand terms the incredible developmental changes that all babies go through making it the best way to track your baby's mental development and even get alerts on when they're about to go through changes.
Solly Baby Wrap
I didn't start babywearing him right away because I was a hot mess feeling all off balance but once I started to feel better I wear him usually once a day. If we're running errands or going for a walk this is how I carry him but it's awesome for when he wants to be held and I need to make myself lunch or do some work while he sleeps on me. It's also great for doing paced bottle feeding where he's upright and I can still support his head and hold the bottle too. I prefer the Solly Baby Wrap over others because it's super lightweight making it more breathable and we don't sweat in it.
NoseFrida
Parents either love it or are repulsed by it, and of course I love it. The NoseFrida is a Swedish Doctor invention an has become an American mother must have item. The way it works? You stick one end up baby's nose and you use your mouth to suck out the snot. It's not nearly as gross as it sounds because there are filters and two different tubes preventing any germs or boogers to enter your mouth. It's kinda gross, but trust me.. you'll want this. *Optional add on* Get you a man that finds joy in the challenge of getting all the boog out himself 😉
Sunflower Lecithin
I learned about this from other Exclusive Pumpers. Sunflower Lecithin is good for your body for a number of reasons but when it comes to postpartum health it works by helping the body rid the excess fats from your bloodstream. Why is this good for breastfeeding? Because in breastmilk you have an initial foremilk which is more watery and helps satiate baby's hunger but the later hindmilk is thicker fattier milk to help keep babe full. When pumping sometimes it takes a long time before you really get to the hindmilk and sunflower lecithin is good at helping that fat move through your breasts and out. It can cut down pumping time and help prevent your milk ducts from getting clogged! It's also good for wound healing and is free of phytoestrogens unlike soy lecithin.
Support System
Like I talked about in my past blog having Chandler and my parents to help with Quentin was everything and then some. You really need to have a good support system in person but even better, have some internet friends. I've joined a few "mommy" groups on facebook that I was able to turn to or learn from during the past ten weeks. I joined a vegan pregnancy and parenting group, a babies born in January group, an exclusive pumping group, and a crunchy mamas group. They all serve me different purposes and give me a bigger space to talk to those who have gone through it or are currently going through it and can relate. So regardless if you have a lot of in person support make sure you find some niche groups to help with whatever it is you're interested in!
Bathrobe & Slippers
Last but not least get a pretty robe, a cozy robe and some comfy slippers! I got a pretty floral robe for the birth center when I was laboring and it was good for the first couple of weeks when I didn't feel like getting dressed but had company coming over to see Quentin. I threw it on over my nursing bra and leggings so I didn't feel like a total hot mess. The comfy robe and slippers are clearly just for keeping warm and staying comfortable. Staying in a robe is great for doing skin to skin, quick access to breastfeeding and not being completely nakie. And I love these slippers because I could wear them around the house and still use them to step outside for a little when I had to walk Bruce!
Let me know in the comments what you think were the best things you couldn't live without postpartum!?

Amy Lorraine is a Lifestyle and Wellness Blogger who calls southern Maryland home. She blogs at AmyLorraine.com, creates crafts, prints and designs in her Etsy shop, and shares her essential journey at The Oil Adventures.

–LET'S BE FRIENDS–
Instagram || Facebook || Twitter || Youtube || Pinterest
Follow me on BLOGLOVIN' to stay up to date!